Host the Best Gatherings This Year With A Custom Deck Installation & Fire Pit Installation Copy
Fall is the perfect mixture of the two currents – It's not too hot or too cold. The weather always seems to be absolutely perfect during the fall. It's almost time for homeowners to begin preparing for the crisp current to whisp itself into our lives. The most relaxing thing to do when the cool air begins flowing through the city is to just sit back and unwind by a fire pit or even in the comfort of a new deck installation.
Find the Perfect Fire Pit to Kick Back & Relax
The crackling of the fire brings a comfort that can't be explained. At York, we design and install fire pits that are perfect for fall time. If you're a homeowner who enjoys spending their free-time outside, you must feel the presence of a fire pit. It's unexplainable. Having the ability to come home after a long day and unwind in the comfort of your backyard next to a fire pit is surreal.
A fire pit isn't just a relaxation hub. It can be a source for roasting marshmallows with guests. The possibilities are endless for what can be roasted on a fire pit. It's fun to get creative with friends and family around a fire pit. See what you can come up with!
Although it's extremely relaxing enjoying alone time around the fire pit, it's more enjoyable to share the gift of warmth. If you're the hosting type, a fire pit is the perfect conversation piece. Guests will love coming over and comfortably engaging in conversation around the fire pit.
Host the Whole Family on Your Custom Deck Installation
Maybe you're a homeowner who prefers hosting parties. A deck installation is the perfect way to get started. It's almost impossible to host without a deck installation or patio. It's possible, obviously, but it's not as enjoyable without the proper space to do so.
A deck installation can completely transform your outdoor experience. The best part is your deck installation is custom-designed. Therefore, the materials and design are in your hands. Although, a deck and patio contractor are there to help throughout the whole journey. A deck and patio contractor will use their years of expertise to ensure the process runs smoothly.
A Deck & Patio Contractor Are There To Help You Along The Way
To begin the deck installation process, it's important to meet with a deck or patio contractor. Mainly, to decide if you'd benefit more from a patio or deck installation. It truly depends on the homeowner. The next steps are the design process. A deck or patio contractor can get the creative juices flowing by showing you a portfolio filled with deck installation designs. It's helpful to create and form ideas here. Then, it's time to put your own spin on it.
Once the deck or patio contractor fully understands your design wishes and home's aesthetic, it's time. We guarantee the deck installation process will run smoothly and efficiently. There's nothing worse than a deck or patio contractor that can't finish the job on time. We despise that just as much as you do. Therefore, your patio or deck installation process by a deck or patio contractor will exceed your expectations.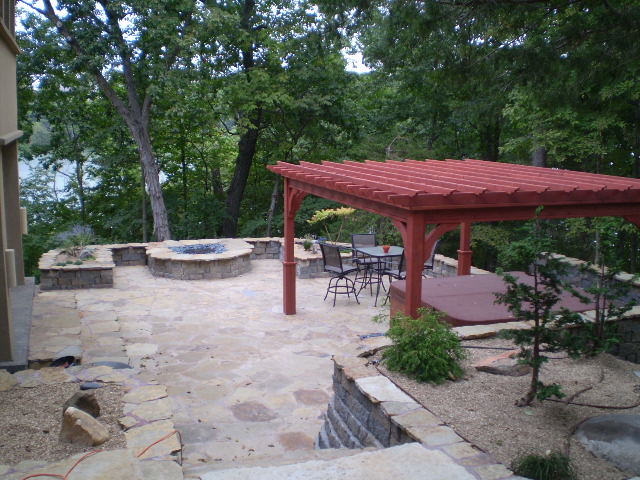 Revamp your backyard! Receive a free quote today on a fire pit or deck installation!