The Enjoyment Fiberglass Pools & Salt Water Pools Can Bring
A majority of individuals absolutely love the enjoyment pools can bring. Since we were young children, swimming pools have brought us a sense of joy. The joy of immersing yourself in water is a relaxing, overwhelming feeling we can't describe. Fiberglass pools and salt water pools have the ability to relax our body and mind.
The importance of fiberglass pools, salt water pools, or even an indoor swimming pool correlates to its enjoyability and practicality. We supply practical pool innovations that bring happiness to any homeowner.
Why we love fiberglass pools
At York, we specialize in
fiberglass pools
. It's our wish to deliver homeowners something that can bring them great joy and pride. There are an abundance of reasons that describe why we love fiberglass pools so much. They are a practical pool option that is enjoyable, financially friendly, safe, and relaxing.
We install fiberglass pools that are safe and reliable for children, friends, and homeowners. The material is a smooth material that doesn't damage the bottom your feet. Our fiberglass pools are maintained under quality assurance checkpoints. This ensures our fiberglass pools are practical and beneficial options for homeowners.
Why we love the benefits of an indoor swimming pool
An indoor swimming pool provides the best of both worlds. They are an extremely beneficial option that allows homeowners to enjoy the compliments of swimming pools in all weather patterns. An indoor swimming pool grants energetic homeowners to workout or relax in all seasons.
A main financial and practical benefit of an
indoor swimming pool
is the mere fact that it's inside. This factor heavily plays into its practicality. An indoor swimming pool creates a low need for maintenance. Outdoor debris won't fly into your pool that creates a pick-up hassle.
An indoor swimming pool is a practical, enjoyable option.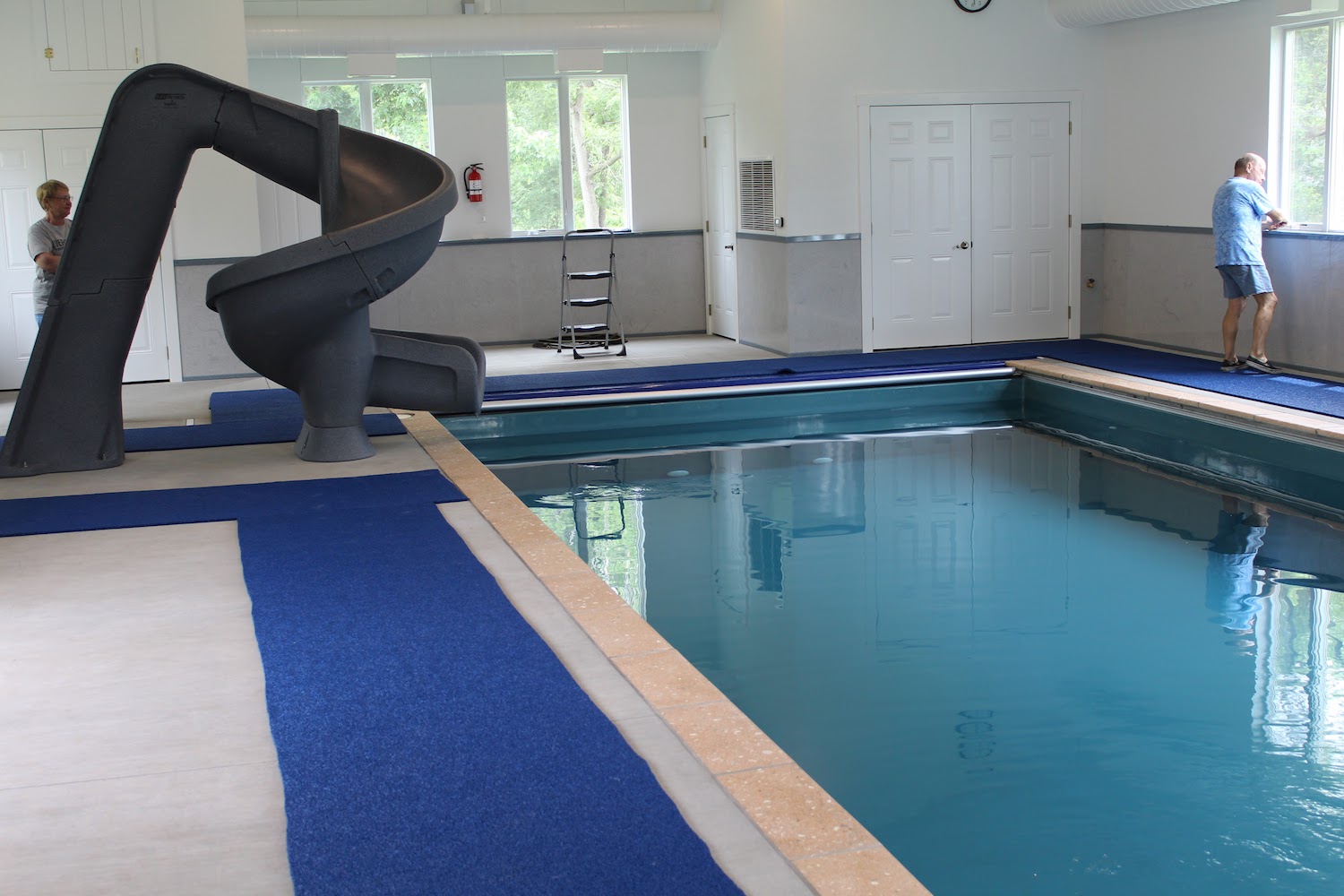 Why we love salt water pools
A common concern we receive is – what are the benefits of salt water pools? There are a variety of benefits of salt water pools. We're here to fill you in on an industry secret.
Salt water pools actually produce their own minimal amount of chlorine. Their own production becomes a major benefit. This ensures that salt water pools will maintain cleanliness. Salt water pools don't demand chlorine additives. These additives can become expensive and harsh on the eyes. Therefore, salt water pools are child-friendly, as they aren't harsh on the eyes.
Salt water pools
are a financially stable option. Since they don't demand additives, there isn't a need to purchase kits and tools for chlorine levels.
Accent your pool with pool water features
Once homeowners have purchased their pool, they immediately understand the desire for pool water features. They add that extra oomph. We supply
pool water features
that are practical and decorative.
Our pool water features can be sporty, such as volleyball nets, basketball hoops, and more.
Decorative pool water features include fountains, spouts, or waterfalls.
Diving boards are a pool water feature favorite.
Maximize your pool experience with decorative or playful pool water features.
Receive a free quote today for fiberglass pools, salt water pools, an indoor swimming pool, or pool water features.