The Top Pool Necessities This Summer
Summertime is an excellent season for relaxing. There's no better feeling than coming home after a long day at work and dipping your feet into a refreshing fiberglass pool. Nothing compares to the refreshing nature a fiberglass pool can offer you. At Pools by York, we custom create fiberglass pools and indoor swimming pools. What's even better than that? Pool water features. Pool water features such as pool lighting, basketball hoops, volleyball nets, and more are just some of our favorites.
Let's start with fiberglass pools
Fiberglass pools aren't just for relaxing, they can also have practical benefits, such as adding value to your home. Installing a fiberglass pool can increase your home's value significantly. Especially if you live in a neighborhood where most homeowners don't own a fiberglass pool.
First, our fiberglass pool contracting team will set up a time to meet with you. We begin by aiming to understand your preferences. Together, we will consider multiple design concepts that are beautiful and functional. The creation of your fiberglass pool is in your hands. We are there to help with design, implementation, and the fiberglass pool installation process. No matter what type of fiberglass pool design, style, or shape you may want – we can do it.
Let's not forget about indoor swimming pools
Most homeowners tend to forget the benefits of indoor swimming pools. The majority of individuals will install outdoor fiberglass pools, but indoor swimming pools are there for you all year-round. Owning indoor swimming pools comes with a variety of health and wellness benefits.
As water is a natural relaxer, indoor swimming pools can aid in proper relaxation all year-round.
Indoor swimming pools can help muscle relaxation.
Speed up joint or muscle healing time with indoor swimming pools.
Indoor swimming pools are easy to maintain as they are away from natural weather patterns.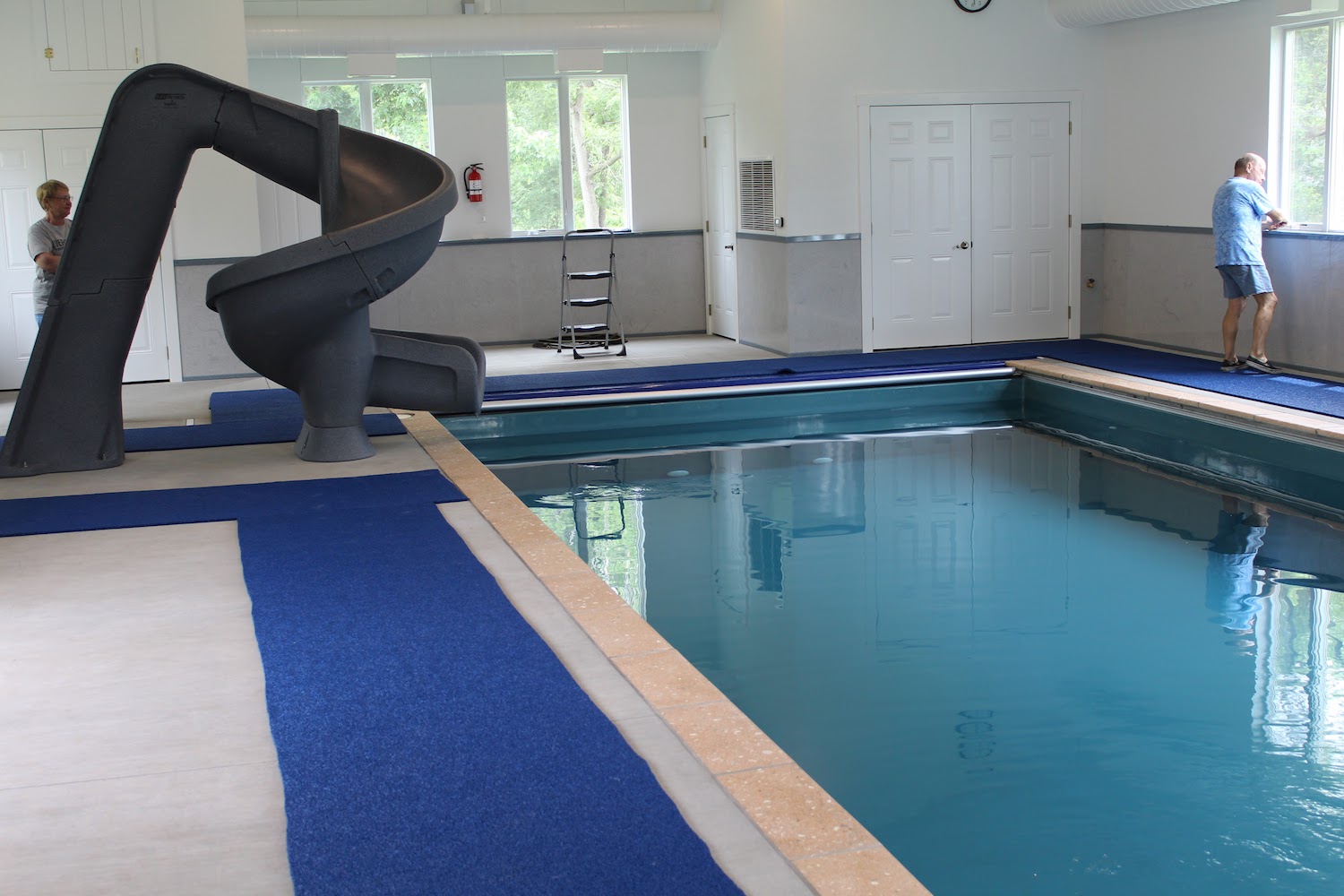 Accessorize with pool water features
We have been in the pool business for quite some time. Therefore, we understand that homeowners have a variety of different preferences. We offer pool water features for every homeowner's individual taste. Some individuals install fiberglass pools for specifically relaxing, while others install pools for play time. Don't worry. We have all angles covered when it comes to pool water features.
Waterfalls: We offer a variety of waterfall styles for every homeowner. From rock to sheer, your home aesthetic can be complimented. When discussing pool water features, ask us about specific waterfall installations.
Fountains: Water fountains are tasteful pool water features homeowners love installing. As a homeowner, your fountain can be artistically excellent or just an added fun accessory.
Activities: From basketball hoops and volleyball nets to waterslides – we have it all when it comes to fun pool water features.
Light up the night with pool lighting
If you're someone who enjoys relaxing in your fiberglass pool at night, pool lighting is the perfect solution for combating the darkness. You can customize the color, light, tone, or brightness. Pool lighting is a necessity if you are swimming in the dark. Pool lighting helps create a fun, but safe nighttime swim.
Receive a free quote for fiberglass pools, indoor swimming pools, pool water features, and pool lighting.