Pool Water Features in Kansas City
Add an element of beauty to your backyard with pool water features in Kansas City.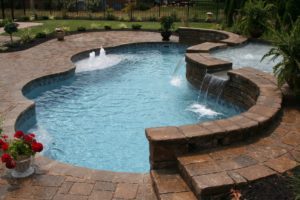 If you're a homeowner in the Kansas City areas, you can probably agree that your home is your castle. It's your place to come home to after a long day at work, a place to beat the heat or a place to share memories with your friends and family. While spending time indoors is enjoyable, create an inviting space in your backyard is the key to getting everyone outside enjoying mother nature.
Add pool water features in Kansas City – like fountains and waterfalls to your existing fiberglass pool.
Pools by York has the ability to add custom pool fountains and waterfalls to your existing fiberglass pool. If you're looking to bring a touch o flair to your fiberglass pool, consider Pools By York's pool water features in Kansas City!
Accent fountains and waterfalls
Fun, vibrant waterspouts
Custom Lighting
Types of pool fountains and waterfalls.
Do you know all of your options? When selecting the right pool fountain or waterfall for your home there are many types and designs to choose from. Below are a few examples of the top water features for swimming pools that are popular with homeowners today:
Rock waterfalls
Rock waterfalls are for tropical themed swimming pools. Rock waterfalls can look like natural rock formations – varying from simple rock structures to more complex structures.
Sheer waterfalls
Sheer waterfalls are the modern version of waterfalls for pools. Instead of a complex, natural appearance of rock waterfalls – sheer has a more minimalistic, simple design.
Rainfall curtain waterfall
As the name suggests, a rainfall curtain is a beautiful curtain of water. This waterfall is a very therapeutic and classic choice.
Pool Fountains
Pools by York offers custom pool fountain options which can be customized to your ideal aesthetic. From simple to complex designs, we can make your ideal pool fountain design a reality.
Pools by York can help walk through the process of designing and installing a new fiberglass pool in your backyard. Our fiberglass pool installations never lack quality and accuracy. Building off of our years of experience – our team of professionals has a great way of attending to every detail and listening to our homeowners.
From the planning and design to create a level foundation for installing a plumbing and filter system and finally adding the backfilling – wah-la! You have a beautiful pool for the whole family to enjoy.
Contact Pools by York today for a free project quote.